"

I'm so glad I found her! Very professional and informative!" - Debbie C.
— online lessons
"

I'm inspired and improved in so many ways after spending a week with you. Your extensive knowledge of music amazes me. Your ear astounds me. I love your selections and your particular arrangements. I appreciate your interest in equipping musicians. Your bubbly, genuine personality is refreshing. Thank you for the beautiful addition to my music and life!" - Carrie P.
— Kentucky Music Week 2018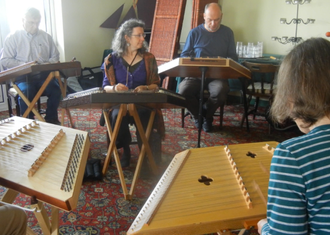 Private Lessons
•Private hammered dulcimer lessons for all levels $65/50 minutes in Karen's Silver Spring, Maryland studio. It is a spacious studio with a separate entrance and private bath, so it is easy to maintain safe social distancing!
•Online private lessons are $65/45 minutes.
•Click HERE to download my Guide to Using Zoom for music lessons.
•Children's lessons on hammered dulcimer or beginning Irish pennywhistle are $45/30 minutes- in person or online.
Rental hammered dulcimers for active students are available for an extra fee.
I accept Venmo, Zelle or checks for payment.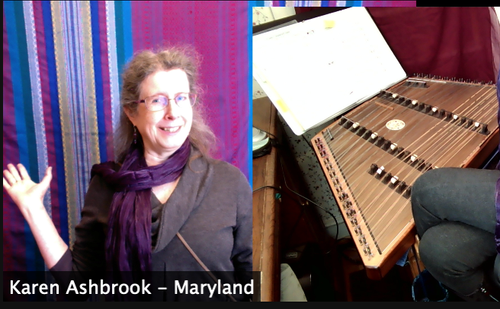 Free Irish Tunebook!
Children's Irish Session Booklet
The Sligo Creek Hedge School's Children's Irish Session Booklet with over 50 common Irish dance tunes - melodies and chords. An excellent resource for beginning Irish music sessions!
1.68 MB
Group Classes & Workshops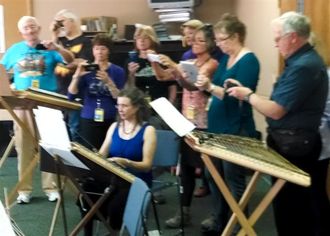 Karen offers group hammered dulcimer classes in many topics for all levels. She offers some mixed instrument workshops like her popular  Mystery of Modes Workshops.
Irish beginning pennywhistle classes for adults or children are also available.  Group classes are available at festivals, online, and occasionally at Karen's house in Silver Spring.  Contact her for more information. 
Click HERE to download my Guide to Using Zoom for Music Lessons.
Video Lessons
Video Lessons
You can purchase pre-recorded (audio and video files) lessons that include the sheet music too. 
Visit my Video Lessons page.
"

The hammered dulcimer has a wondrous, magical sound... a full, rich tone with glorious sustain. Once it gets into your soul, nothing else quite comes close. The simplest melody can take on an intimacy and a fullness far beyond the actual notes being played. Simply put, this instrument is an incredibly resonant rich mysterious timeless wood-and-wire box of soul..." - Biill Flanagan