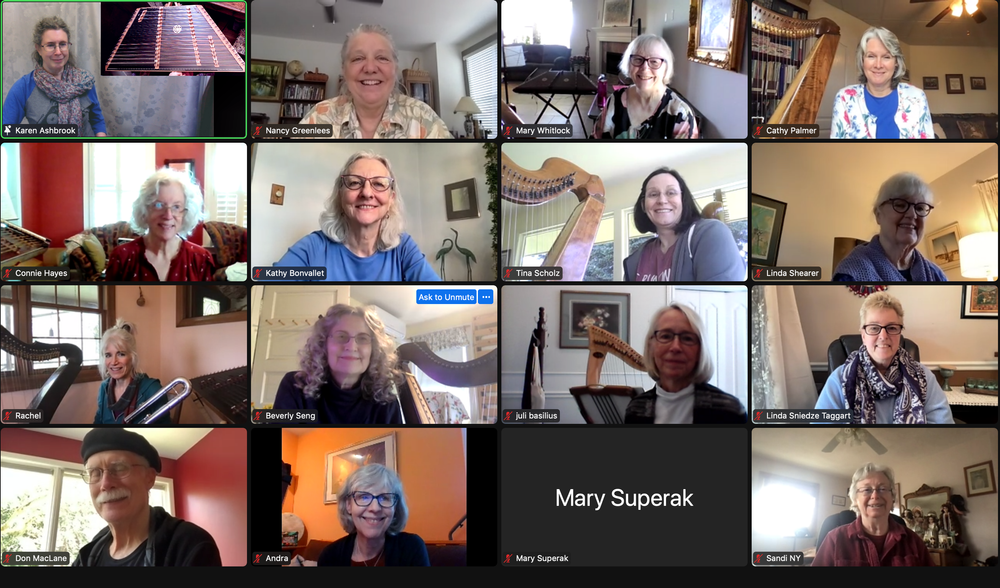 Winter-Spring Mystery of Modes Course, 2023
Dates & Time: 8 ninety-minute weekly sessions, starting February 21 & 22, 2023.
Registration is now open HERE.
NOTE: Week 1 is a two-hour class.
TRACK 1: Tuesdays, 7:30-9:00 pm  Eastern/New York Time 
TRACK 2: Wednesdays, 3:00-4:30 pm   Eastern/New York Time
Each track limited to 21 participants.
TIME ZONE CONVERTER: https://www.worldtimebuddy.com/
 LISTEN TO SOME OF THE MUSIC FROM THE COURSE HERE.
REGISTRATION AND PAYMENT FORM  is through MHTP.org HERE.
Mystery of Modes ONLINE 8–Week Course
DESCRIPTION:  We will explore the 6* modes used in music – their characteristic sounds and basic chord progressions.  A booklet comes with the course that includes charts and melodies in each mode.  We will look at how to change a tune from one mode to another mode. Every class will include a lot of hands-on playing (in the muted privacy of your home). Basic improvisation with chords and scales in each mode, including pentatonic scales, will be covered.  Bonus: Harmonic Minor and the Hijaz/Freygish scales will be covered too! The emphasis will be playing the basic chord progressions that imply each mode.  *The Locrian mode will be briefly discussed but we will not be covering it. NOTE: You need to be able to go from the Key of C (no sharps /flats) to the key of A (3 sharps).  We will not be using flat keys. 
LEVEL: Intermediate to Advanced players. You should have knowledge of your basic major (F, C, G, D, A, E) and minor (dm, am, em, bm) chords. A knowledge of basic music terminology is required. If you need to learn or review the basic terms (minor, major, chord progression, intervals, diatonic, chromatic, tonic, root, triad, key signature) , an online workshop will be offered for a small additional fee on February 13th. The workshop will be recorded, for folks who can't attend it live.
GOALS & EXPECTATIONS: The course should give you clear ideas of what each mode sounds like and how to play in it.  Each week you will be provided with a sound recording for practice purposes.  A few  students will be assigned to play for the class the following week for about 5 minutes each.  This can include playing solo or along with the practice recording.  Other students can just listen or play along. This will give participants a chance to hear the concepts being taught interpreted in a variety of ways and on different instruments.  All students will be expected to play for each other ONCE during the course. Therapeutic Musicians can earn 12 to 20 CEUs if they complete the course.
 COURSE SCHEDULE: We will begin each session with about 30 minutes of check-in questions and students playing/presenting on the scales and improvs of the previous class (solo or with the practice recording).  Then we will spend an hour going over the featured topic of the week. Week 1 will be a 2 hour session, the following weeks will be 90 minutes.
OPTIONAL (included with course): February 12, Sunday, 4:00-5:15 pm Eastern/New York, Basic Music Terminology Review.  A quick refresher webinar to review common terms you will need for class.  The webinar will be recorded, so even if you can't attend, you will have access to it.  For people who need more theory instruction, there will be a two-Sunday Webinar offered by MHTP on Basic Music Theory in late January.  Details and registration through MHTP TBA.
Week 1: (2 hour class) Introductions, Pentatonic scales with and without chord progressions for Major/Ionian, Dorian, Native American flute scale (minor pentatonic), the Indian raga Hamsadhwani, and the Japanese Hirajōshi minor pentatonic scale.
Week 2: Three assigned students will play/lead the class in playing on one or two of the pentatonic scales. Major/Ionian–scale and basic chord progressions; simple improvising ideas based on chords.
Week 3: Three assigned students will play/lead the class in improvising in Major/Ionian with Canaries or a simple chord progression. What is a mode?  What are the 7 modes in music?  Mixolydian–scale and basic chord progression; how to change a tune from Major to Mixolydian.
Week 4: Three assigned students will play/lead the class in improvising in Mixolydian. Dorian–scale and basic chord progressions (two different ones); how are the Dorian and Mixolydian modes related; what is the difference between Dorian and Aeolian?
Week 5: Three assigned students will play/lead the class in improvising in Dorian.  Aeolian/Minor–Natural, Harmonic and Melodic Minor– scales and basic chord progressions. Greensleeves will illustrate the differences between Dorian, Natural, Harmonic and Melodic Minors.
Week 6: Three assigned students will play/lead the class in improvising in Aeolian/Minor.  Phrygian and Dominant Phrygian–  basic scales and chord progressions.
Week 7: Switching between 4 modes using the tune Nonesuch. How does switching modes change the melody and chord progression? Lydian-scale and basic chord progressions.
Week 8: Three assigned students will demonstrate in taking one tune and switching between two (or more) modes or something in the Phrygian mode. We will cover how to tell what mode a tune is in.  Overview and review of the entire course.
REGISTRATION & COST
COST: Early Bird Pricing: only $310 if you register by January 10!  After that it is $360. Price includes pdf course booklet, hours of sound and video files of all the material, plus videos of each class will be uploaded to YouTube. The course is worth 12-20 CEUs for therapeutic musicians.
NOTE: If you are not comfortable with basic music terminology–triad, roots, major and minor chords, chord progressions, bass line, circle of fifths, it is required to attend and/or watch my Basic Music Terms Workshop, Sunday February 12, 4:00 pm Eastern, which is included with the Modes Course! The webinar will be recorded for those who cannot attend. There is also a basic Music Theory Intensive webinar if you would like more instruction Jnuary 22 and 29, offered through mhtp. Details HERE.