Weddings
You want your wedding to be special and memorable!
Live music can help set the perfect mood and add magic and elegance to the occasion. The hammered dulcimer is a beautiful instrument that delights the eyes and ears. It can be used solo for smaller gatherings or in ensemble. It blends beautifully with harp guitar and accordion (which sounds much like a small organ - perfect for outdoor settings!) 
Choosing a musical duo is a popular option for its affordability and variety. As a duo, I often play with my husband Paul Oorts. Between us we can play hammered dulcimer, wooden flute, harp guitar, and accordion to provide a varied and rich selection of music. I also work with other musicians to custom fit the occasion. Sound reinforcement is available for an extra fee.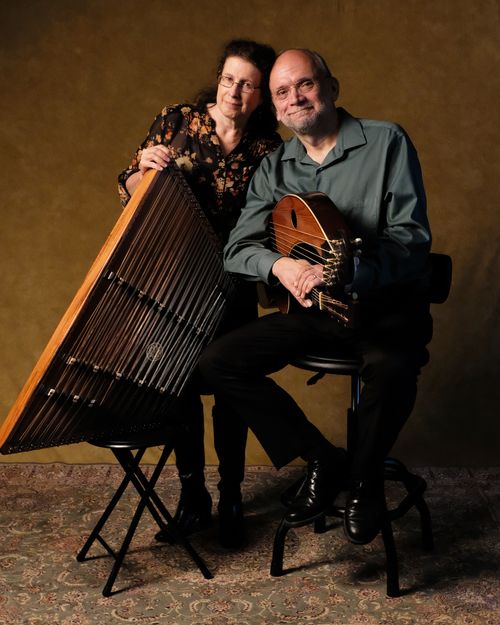 Wedding Music Samples
Here is a selection of short at-home recordings to hear some of the options: 
Processionals: 
•Dodi Li - solo hammered dulcimer  
•Fanny Po'er - hammered dulcimer & accordion (listen for transition at :037 for Bride's entrance) 
•Paspie Menuet - flute & harp guitar (bridesmaids or pre-ceremony) 
Recessionals: 
•Constantine Maguire - solo hammered dulcimer 
•Planxty O'Conor - hammered dulcimer & harp guitar 
Reception Music: 
•Judy's Jubilation - hammered dulcimer & harp guitar (recorded at a Swift Run House Concert.  You can hear cicadas in the background).
"

Karen and Paul's music (hammered dulcimer and accordion in our case) was an absolute highlight of our wedding. Karen and Paul helped us pick the perfect repertoire of songs and were a delight to work with from start to finish. We couldn't have imagined anything better to set the tone for our ceremony. We're so happy we found them!" - J.F.
"

Karen plays the hammered dulcimer and she does so beautifully. The sound of the instrument and the songs that she played really added to the atmosphere of our wedding ceremony. She was easy to work with and did a wonderful job." - S.L. 10/11/2009
"

I can't say enough about how magical our ceremony and reception were due in large part to the beautiful music provided by the "Karen Ashbrook Trio." ...our guests did nothing but rave about how wonderful the musicians were. They have a great style and I highly recommend them for any special event."