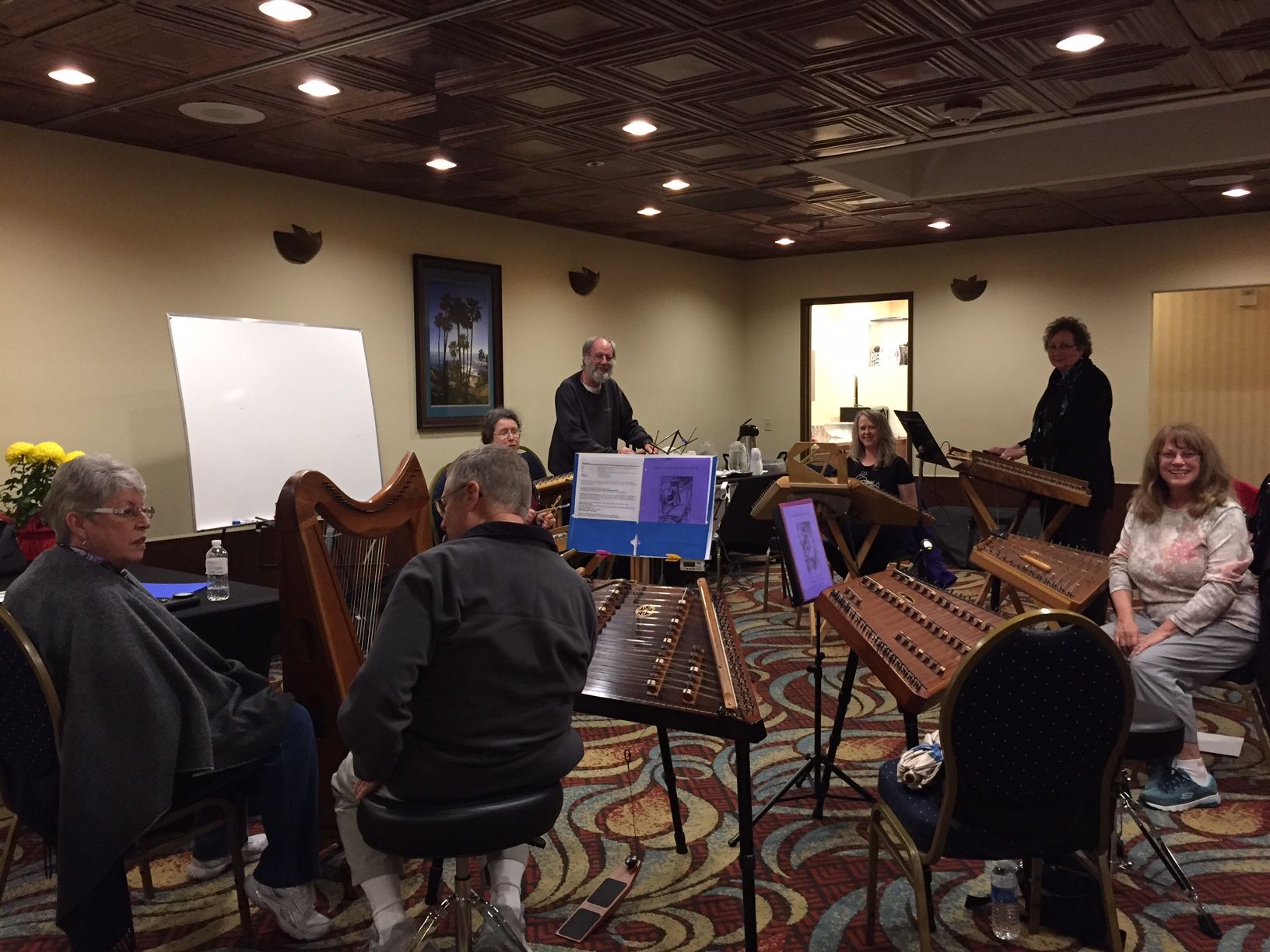 In February 2017 in Southern California, 8 musicians took my first Mystery of Modes Workshop (pictured here!) Just a few months later in April, I taught it again to 18 participants in Maryland. Since then I have offered it a few times a year around the country –until this year of course. Playing in different music modes and being able to switch between them is an important tool for therapeutic musicians.  However the training only briefly covers the basics and provides no information about chord patterns.  I've taught about modes for years and so offering a weekend where we could delve into the subtle and not so subtle differences was a natural topic for me to offer.  What I didn't expect was how much my own knowledge would continue to expand and deepen with each workshop.  The sweet sounds of all the different instruments–especially the harps and hammered dulcimers weaving together– left everyone relaxed and full of joy, even if their heads were overstuffed with many new ideas!  As always, stories of the magical work we do were exchanged. Those musicians who had not thought about using their music for healing were drawn in!
From the start I was asked to offer it as a webinar and I adamantly refused.  Hearing everyone play and to play together was an integral part of the experience.  
But things have changed.  It will be months before we can have in-person classes again.  Through necessity we have learned that Zoom isn't so bad. There are even advantages! Surprisingly, there is still a sense of community and being together. There is a huge accessibility benefit, with folks all over the world and in many time zones being able to come together.  And with a few simple tweaks to the settings, the instruments sound decent.
So I tried to imagine how to craft the workshop. One change is holding it as a weekly class rather than trying to cram all the information into a weekend. This way, folks will get units in manageable bits and have time to explore the ideas and music presented.  Recordings will be provided for home practice.  And I decided that every participant will (at least once) play for and/or lead the class for 10 minutes in whatever was covered the previous week. That way everyone will hear different instruments and gain ideas of different ways to apply the material.  Participants can play away to their heart's content without worrying what they sound like! 
The inaugural 8-week virtual course starts September 22. For more information click HERE.