October 19, 2021
Life gives and life takes.  
I have felt that keenly recently.
Paddy Maloney, founder of the great Irish band The Chieftains, has passed.  A Chieftains recording, played by a substitute teacher in my music class in middle school, introduced me to a lifelong deep love of Irish music.  A few years later I heard them in concert–my first time hearing live Irish music. I was totally hooked and eventually travelled to pubs in England and Ireland to learn the music.
Sam Rizzetta–inventor, nature lover, pilot, much more but also the most influential person in the development of the modern American hammered dulcimer, is entering home hospice.   His innovations and willingness to help people create instruments and find instruction were part of every step of my dulcimer journey. In high school I built a dulcimer based on his plans from the Smithsonian and the model he taught people to build in workshops. In 1984 when I self-published "Playing the Hammered Dulcimer in the Irish Tradition," the first book available of intermediate to advanced players, his endorsement of it and selling it at festivals, established me as a national teacher.  He started the first weeklong classes for HDs at the Augusta Heritage Center in Elkins, WV, where I taught dulcimer over many years. And the instruments I play today–Compact Chromatics–are models that he developed with Nick Blanton. Thank you Sam, for all you have done over many decades to help create and sustain the revival of hammered dulcimers! 
October 4th was my fifth anniversary as part of the Arts & Humanities team at Georgetown Lombardi Med-Star Hospital. Last week, after 18months, I was finally back in the cancer center at the hospital.  I am currently only allowed in out-patient spaces, including Infusion, waiting rooms and lobbies.  I started back playing in the hospital lobby at Walter Reed a month ago.  While I still wait to be allowed access to the rest of the hospital and in-patient, it is joyous to be in-person again!
Life gives and life takes. We are blessed to be a part of the Circle of Life.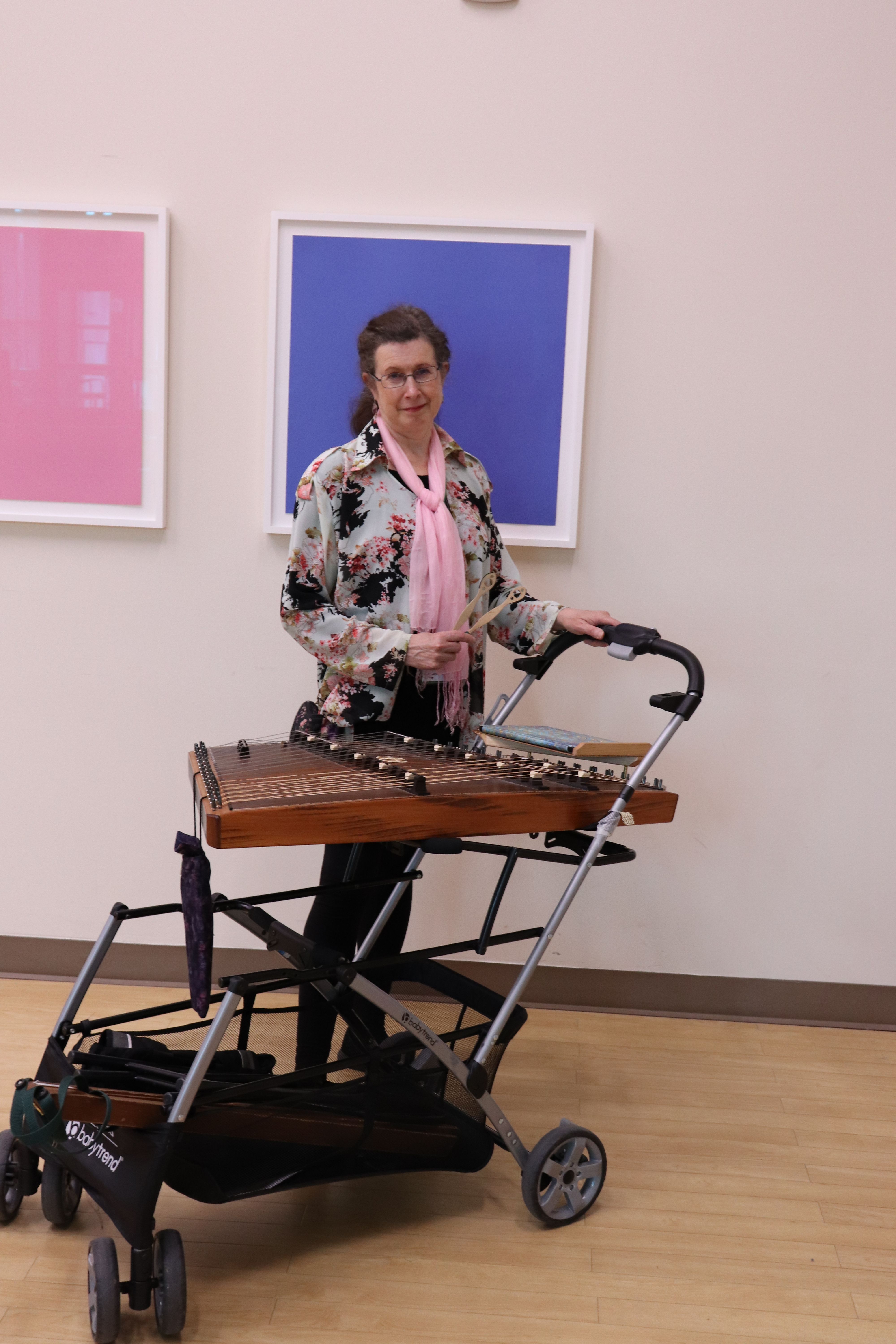 Karen at the Lombardi Cancer Center at Georgetown.